/2018_seniors_v_norfolk
2018 Season
https://www.suffolkgolfunion.co.uk/east-anglian-seniors-league
https://www.midlandgolfunion.co.uk/2018_senior_league_tables_and_results
2018 Anglian League
3rd May v Suffolk at Stowmarket GC Win 9 1/2 - 5 1/2
29th May v Cambridgeshire @ Gogmagog Draw 7 1/2-7 1/2
5th July v Norfolk @ Kettering G.C. Win 9 1/2- 5 1/2
30th August v Lincolnshire @ Oundle G.C. Win 8-7
2018 East Midland League
24th May v Nottinghamshire @ Peterborough Milton Win 13 1/2- 4 1/2
29th May v Cambridgeshire @ Gogmagog Win 10-8
22nd August v Leicestershire @ Stapleford Park Win 9 1/2 -8 1/2
30th August v Lincolnshire @Oundle G.C.Win 91/2 - 81/2
2018 Friendy Matches
18th May v Bedfordshire @ Rushden G.C. Cancelled due to weather.
4th June v Shropshire & Hereford @ Bridgnorth G.C. Loss 11-7
25th June v Warwickshire @ Edgbaston G.C. Loss 10 1/2 - 7 1/2
30th July v Derbyshire @ Wellingborough G.C. Win 10-8
13th August v Worcestershire @ Overstone Park Loss 12 1/2 - 5 1/2
11th September v Staffordshire @ Great Barr Win 10 - 8

14th September v Northants Vets Win 3 1/2 v 2 1/2

Northants Seniors Team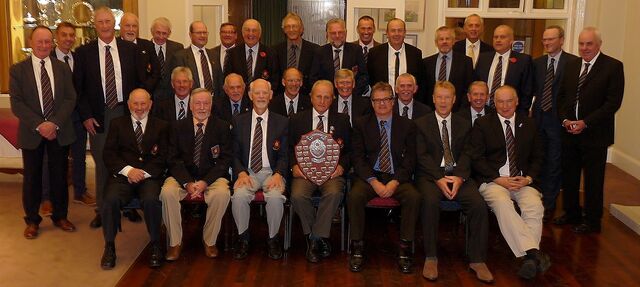 The County Seniors Section is open to all NGU affiliated members over the age of 55 although County matches are in the main for players with a single figure handicap.
The aim of the section is to enjoy good social combined with a competitive edge. Matches are played throughout the Midland and Anglia Regions alternating home and away each year. We currently play a mixture of Fourball/Foursomes and Singles formats.
Other Counties involved are Bedfordshire, Cambridgeshire, Derbyshire, Nottinghamshire, Norfolk. Suffolk, Warwickshire, Worcestershire, Leicestershire, Shropshire & Hereford, Staffordshire and Lincolnshire. Most of these Counties come together to compete in the annual Midland County Team Championship with the winners progressing to the National Final played against 2 other regional finalists over 3 days at a top venue. Northamptonshire were fortunate to be finalists in 2006 & 2010. We also compete in the Anglian Seniors League, winning the inaugural 2012 tournament and then again in 2014 , 2015 , 2016 and again in 2018.

2013 saw the introduction of a new Midland Seniors League and we fortunate in sharing the East Regional title with Nottinghamshire. We finished runners-up to the same county in 2015. In 2018 we won the title outright winning the right to play-off against the West Midland winners.

The Seniors County Championships which is open to all members of NGU affiliated clubs aged 55 or over on competition day. Trophies are presented for best scratch and best nett and other team and age related prizes, all are welcome. In the Autumn we also hold a Fourball Better Ball Open for Seniors within and outside the county.
There is also an annual Open Fourball Competition played late in the season. This is for all senior men, not just elite players and also open to players from outside the county.
A fixture list is sent to all eligible players early each year seeking their availability. This means we can plan well ahead and give all a chance to represent their County.
The enthusiasm of the players makes my job as non-playing organiser an absolute pleasure. The County subsidise us by providing a ball for each round and team clothing, pre-season coaching, as well paying for match meals. The season is rounded off with a team get together and presentation dinner.
John Harris
We are happy to receive contact details from any member with a handicap of 8 or below. If you are interested please use the contact form (click on the link at the top of the page) provided under "Contact Us" .

2016 Anglian League Winners
The season started here

Pictured from left to right Malcolm Evans (NGU), Rodney Haig, Doug Hill, Graham Jones, Phil Longworth, Ted Dunn, David Dare, Mike Abbotts (Captain), Paul Swain, John Harris (Match Secretary), Peter Collins, Martin Harris, Tim Johnson, and Gary Hardy